Welcome to Odense, Fyn
You already met her….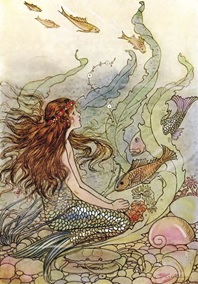 But do you know that not that far away there is a city- Odense- filled with sculptures depicting fairy tale characters from H.C. Andersen fairytales- and a few of the author himself ?
Hans Christian Andersen was born in Odense in 1805. His birthplace is the iconic yellow cornerhouse that you see in all the postcards and is a must see. Clike here for more information.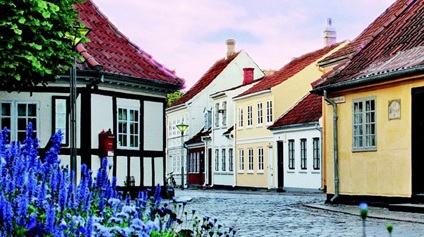 Odense is one of Denmark's oldest cities, and the third largest, and everywhere you can feel the touch of history. The historic quarter sports colourful row houses, cobble stone streets and many fine examples of half-timbered houses. Many museums will tell you more about the history of the city.
Click here for more information about history.
Click here for more information about museums.

Odense is the main city of the island of Funen , which have numerous other sights and experiences to offer…

Egeskov Castle Svendborg

Kerteminde, Viking museum Storebælt Bridge
Feeling hungry?
Try some of our traditional dishes in one of these restaurants:
Grønttorvet: Sortebrødre Torv 9 or Den Gamle Kro A/S: Overgade 23.
Odense recently got two new attractions as first Storm's Pakhus near the harbour and then Arkaden Food Market in the city centre opened. Each street food market has its own unique style, so visit them both and decide which one is for you.
Feeling like sharing a glass or two ;) after a long day?
Christian 4-tal: Vintapperstræde 31 or S'vineriet vinapotek: Klaregade 36 are for you !
A souvenir from Odense?
You will find something here: Rosengårdcentret (Ørbækvej 75, 5220 Odense) close to the campus of the university, Vestergade and Kongensgade streets in the city center or H.C. Andersen museum shop (Claus Bergs Gade 11, 5000 Odense C).

The festival H.C. Andersen will take place during your stay, do not miss the sound and light show! Click here fore more information.